Read More >
If you stare hard enough, you'll see whatever you want to see.
Sailing at night is disorienting. You lose sense of direction, depth perception and perspective. A white light on the dark horizon might be a high-powered navigational beam on a tower 20 miles distant – or it could be an 8-watt bulb on the transom of a boat 100 yards away.
First they tell you to swipe your credit card.
Then they tell you to push cancel.
Then they tell you to push credit.
I wish they'd make up their mind.
Read More >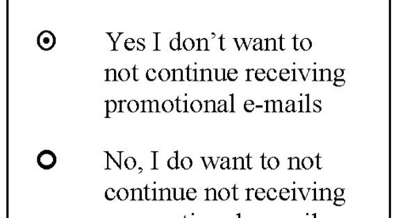 The simple unsubscribe function comes with a surprising number of variations. While federal anti-spam regulation requires an unsubscribe opportunity in all e-mail marketing messages, the law doesn't say you have to make it easy. And many marketers don't. Where is it all headed? Here's one possibility.
For anyone who wonders what the future of media looks like, spend 1:30 to watch this video. If involves a cute baby, and if you project forward to when that baby is an adult, it tells you everything you need to know.
In a recent workshop on social media for small business, one owner remarked that she didn't want to start using Facebook for her business because she doesn't want information about her personal life to be available to strangers online.
After an explanation that it's now possible to keep business and personal lives separate on Facebook, I flippantly suggested that the era of privacy is over anyway.
Many people under the age of, say, 25, seem comfortable sharing every moment – for better ...
Read More >
Call this Rule #1 for life. Maybe it's not the most important rule; it's not the Golden Rule or even the Rule of 72.
Let's call it the Hard Goods Rule: Buy good equipment and take good care of it.
Nothing provides better affirmation and aids in a better outloook than moving through the details of the day with equipment that works easily, well and with the rarest of failure.
If you need to buy a printer for your ...
Read More >
According to a report in B2B Magazine, the next edition of Microsoft Internet Explorer – IE9, to be released during 2011 – will include a feature that enables users to block 0nline tracking of their internet browsing by marketers.
Thank you Microsoft, for taking our privacy out of the hands of the calcified Congress, and putting it back where it belongs: with each of us. If you're not careful, people might start to like you again.
A direct quote from the 9 a.m. 'news' segment of NBC's Today Show:
"Finally, the moment we've all been waiting for since the announced engagement of Prince William and Kate Middleton: the day and location of their wedding. So mark your calendars for April 29…"
As if NBC isn't going to remind us.
Why do the breathless reports of Prince William's engagement to Kate Middleton have such a negative impact on me?
I have no ill will toward the couple; they are charming, attractive and – considering the circumstances – appear humble and likeable. In England, where the royal family is some kind of national treasure, I might understand such over-the-top, second-to-second pursuit of each detail as they proceed toward a royal wedding.
But here in America, Will and Kate are not our own; interest ...
Read More >